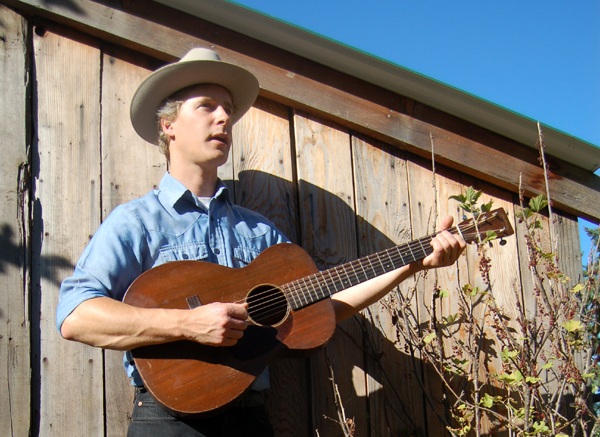 Caleb is coming back to Winnemucca, this time bringing his all-star band. One our our favorite people, a great musician, wonderful singer, and a song writer with an old beautiful soul, Caleb's newest record "Dangerous Mes and Poisonous Yous" is spinkled with old standards, and mixed with his new songs, and it is impossible to know the difference. If you haven't heard it, have a listen.
Caleb Klauder is bringing along a great band, made up of friends from Portland, and interestingly enough, nearly all of them have played the Martin before, but with other bands. Jesse Emerson of Amelia will be here on bass, Paul Brainard the great petal steel player that performs often with Richmond Fontaine, Sophie Vitells of the Crooked Jades will be on fiddle, Sammy Lind of Foghorn will be on guitar. The only stranger (to us) in the group is drummer Ned Folkerth who drums for Caleb as well as with the Lewi Longmire Band, Spigot, the Pinetop Seven, and few others.
Caleb Klauder's warm sound, authentic and familiar, feels all at once contemporary and vintage, as though it's coming from the porch next-door. Raised between Orcas Island, Washington and Little Cumberland, Georgia, Klauder took his first steps in Knoxville. If his music could invent a genre, it would be New-school Americana, infusing old standards with Northwestern attitude and spinning out modern classics made elegant with Southern charm.
Klauder writes his rough-hewn lyrics among the chickens scratching in his garden in Portland, Oregon, where he works as a musician and carpenter and is raising his 13-year-old son, Elijah. Winner of the Best Country Album of 2007 at the Portland Music Awards, Caleb Klauder has been on tour for the last fifteen years performing with Calobo, Pig Iron, The Caleb Klauder Band, The Foghorn Stringband, and with Dirk Powell. He's opened for acts such as JJ Cale, Iris Dement, David Bromberg, and the Del McCoury Band and has shared the stage with Tim O'Brien, Kevin Burke, The Wilders, Uncle Earl, and Justin Townes Earle. Klauder regularly collaborates with Dirk Powell, Riley Baugus, Betse Ellis, Reyna Gellert, and Justin Townes Earle.
Klauder has toured extensively with both the Foghorn Stringband and the Caleb Klauder Country Band throughout the US, the UK, Ireland, Denmark, Sweden, Finland and Malaysia playing a variety of stages including the Tonder Music Festival, the Newport Folk Festival, the Rainforest World Music Festival, the Chicago Folk and Roots Festival, Pick-a-thon Roots Music Festival, The Seattle Folk Life Festival, The Bristol Rhythm and Roots Festival, Bumbershoot and the ROMP Festival.