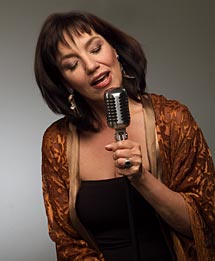 CeCe draws the listener into her captivating world of song with an incredible depth of emotion. She swings with rhythmic passion and also has the ability to caress a ballad with effortless interpretation. Influenced by many of the women and men of jazz, she offers her own voice on jazz standards and the American Songbook. She shines on any stage whether she is accompanied by a solo pianist, a trio or an entire orchestra… you'll find you cannot get enough of this jazz experience.
Well known to audiences up and down the Pacific Coast and throughout the western states, CeCe Gable is rapidly becoming one of the premiere jazz singers in the region.
A native of Barberton, Ohio, and a graduate of Kent State University, CeCe lived in Winnemucca for a few years while she was working as an artist in residence in Winnemucca schools. While she was in Winnemucca she primarily taught dance and creative movement to budding young artist's. CeCe now makes her home in the Reno/Tahoe area as a performing and recording artist.
A consummate jazz cabaret performer, she has sung in jazz clubs throughout the United States and Europe including New Orleans, Las Vegas, Palm Springs, Fiji, Munich, Athens and at New York City's Iridium with Les Paul.
She has presented the works of George Gershwin, Thelonious Monk, Stephen Sondheim and Kurt Weill to rave reviews in a variety of venues. According to Metroland (Albany, NY), CeCe Gable is a performer who exudes warmth, sophistication, a generous stage presence and rare versatility. A unique, compelling performer with a style and sound all her own, CeCe has been compared to the song stylists of the '50's with a contemporary twist.
Admired as a "quiet surprise" by audiences nationwide, CeCe has become known for delivering an honest performance and has prompted more than one audience member to say "When you sing I see the music flow through you and I believe you."
Richard Feldman, stage director and arts critic for The Record (Troy, NY) asserts that "CeCe Gable is one of those rare performers whose mellow vocals, stylistic sophistication, diversity of material and intimate delivery combine perfectly to convince us that she's singing to each of us…personally."