Leo Rondeau & Dynamite Tales
7:00 PM Tuesday, December 7, 2010
We have had some pretty interesting trips into old time music, experienced sublime traditional and progressive bluegrass, witnessed amazing modern and traditional folk music of all stripes, we have tasted some great blues, and lately some have been on sort of a streak of outstanding early county music shows.
Here comes another one, from Austin, Texas.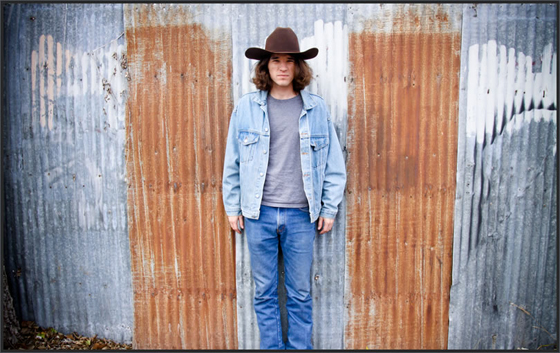 Back from tour, Rondeau returns to the Hole in the Wall
By David S. Lewis
The willowy dancer, her dust-blonde hair spilling out underneath the shapeless brown cowboy hat, two-stepping nearly so gracefully as she ducked the amorous advances of her partner, her eyes half-lidded, listening; behind her, on the stage, a young man, his narrow face chiseled from Badlands rock, his sharp features testament to his Native American lineage, his even-toned voice almost matter-of-factly delivering the lyrics:
'On my way I saw a cavalcade
and a mob at odds with the world
I heard clams clamoring for all of her attention
But I couldn't take my eyes off the pearl'
The mournful lyrics, a request for reunion with a old flame, belied the energetic stomp of the tune. The singer, Leo Rondeau, fresh off a three-month national tour, has returned to Austin, where he has lived and worked as a musician for six years.
Rondeau is a rarity in Austin, or anywhere, for that matter. He writes his own songs…and makes a living doing it. Now returned, he retakes his throne as the Monday house act at The Hole in the Wall.
Elsewhere in the crowded honky tonk, indie cats with tight jeans listened intently to the lyrics, while the avowed country crowd either leaned against the bar, thumbs hooked in belt loops, or crowded for space on the narrow strip of wood planking that served as the dance floor, boot heels clicking on the ancient boards, the ubiquitous Texas Two-Step the only education required to groove to the bass's sprightly thwap and Rondeau's soaring Telecaster slide, its venerable tones moving in and out of the rhythm laid down by the drums and acoustic guitar.
The Hole in the Wall has been a bastion of Austin music for decades. Formerly the stomping grounds of Texas songwriting heroes like Townes Van Zandt and Guy Clark, it doesn't seem to have exhausted its role as an incubator of legendary musicians…and Rondeau, seemingly poised to take full advantage of the currently popular crossover country/alt-country/indie market, might be unaware of it. When I asked him why so many indie musicians have adopted country-esque fashions and instrumentation, he seemed almost puzzled.
"I don't have a lot of perspective on that, like why people are gravitating to it, because I've always listened to country," he said. Rondeau blames his Western style on his father.
"I can't speak for everyone else, but for me, that is basically me turning into my dad," he laughed. "He always wore snaps, and cowboy boots and a hat, and he had long hair. I'm just turning into my dad."
Rondeau's family might also be somewhat responsible for his isolation from indie music and other hip genres.
"I listened to country from the first times I ever listened to music," he said. "My father and grandfather played country music. When I was in high school, I listened to some of the rock on the radio, but at the same time, I was also listening to Hank Williams, as well. I don't think that's common; I think a lot of people come into it late. Like, Vaughn, here (gesturing at the guitar player), he came up listening to punk rock."
Vaughn, originally a native of West Virginia, said that the Beach Boys, golden oldies, and punk rock were his formative genres, and that he more recently discovered folk music. A long-time guitar picker, one of his responses to that discovery was to pick up the clawhammer banjo, a ancient style of picking that pre-dates bluegrass by a hundred years. Vaughan is able to work the distinct rhythm of the clawhammer into Rondeau's songs so that it is a complement, and not a distraction, a cheery background jingling rather the usual brassy and prominent role occupied by a banjo. That, and Rondeau's lyrical style, which is mellow but memorable, his words thrown up in the air a little ways and whirled around so you think he must drop the damned things but instead each coming back down right where it needs to be, at exactly the right place…these elements make Rondeau's brand of country simultaneously timeless and unique.
Rondeau also spoke with us about Austin, on being back, and coming up country in a city that sometime neglects the genre the first made it famous.
"I pretty well only hang out with the country scene, and there is a good one," he said. "And so, since that's all I see, I think, yeah, there's a huge country scene. But there's definitely a huge indie scene, too."
Rondeau noted that while country is popular, it doesn't get as much attention.
"Just from reading papers, there's always an indie band that's getting signed from here. Country bands, they just don't get much press," he said. "Most of the press around here is more interested in indie bands…I really don't know why that is, actually. Maybe they think that country music is not edgy enough…that's just a guess, though. I really don't know. I wish that country bands were getting signed." He was quiet for a good minute, seemingly searching his brain for some bit of information.
"I was trying to think of a country band that got signed recently, and I can't think of one. That may be a reflection on the industry, as well."
Rondeau said that despite any shortcomings the city might carry, it's a great place to come up as a musician.
"For me, it's great because the creative community is awesome. I love it down here," he said. "All the friends that I have in bands are great songwriters, and they really push you creatively…I love Austin, glad to be back."