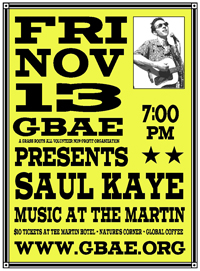 Our friend Saul Kaye, from over in the "Bay Area",  is coming back to Winnemucca.   Saul is a guy we really admire.  He is a very gifted musician, a great songwriter, has a wonderfully warm stage presence, and each time he has come to the Martin he's brought a strong band and a wonderful groove. It is very easy to tell that Saul Kaye loves what he is doing.
Now, the interesting thing is, Saul is coming this time to play a solo show.  He has been moved to create a whole new suitcase full of blues tunes around his Jewish Heritage, and he's coming to Winnemucca to try them out on you.
We hope you will join us.
$10 Tickets are on sale now at The Martin Hotel, Nature's Corner and Global Coffee.
Here is a  post about Saul's new music, written by an Actual Journalist:
From the Bohemian.Com:
Saul Kaye funnels his communions into 'Jewish Blues'
By Gabe Meline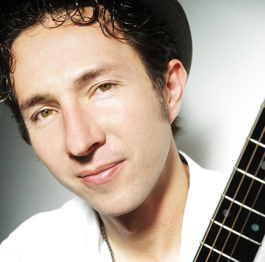 At age two, Saul Kaye glued his head to the stereo speakers in his family living room, and one could make the argument that he's never really unglued himself. In fact, as a teenager, his only weekly ritual was tuning into a radio show called The Blues Train , which played Muddy Waters, Willie Dixon, Son House and other greats from 8pm to 6am while Kaye played along.
Saul Kaye's new album, Jewish Blues , is the product of two life-altering communions, the first being playing along every week to the radio. His second came at Jerusalem's Western Wall, where after a period of falling away from his Jewish upbringing, Kaye says, "I went to Israel in my 20s and had a classic 'wall' experience. I was at the wall, with my family, and felt a strong reconnection."  <more>