Music at the Martin
Karen Savoca and Pete Heitzman
Thursday, November 6, 2008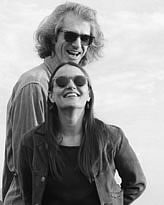 This was it for me. Back around 1996 I'd been hearing about these little concerts from some of my friends, maybe it was Ed Kretchsmer, I'm not sure. But I thought I'd give it a try, so I went to see Karen Savoca with Pete Heitzman. I had never heard of them, and had no idea what I was about to experience, but when they launched into an long extended version of No Where to Go, , with Karen slapping that big conga drum and Pete delicately wrapping and interlacing his guitar licks around her voice, I was hooked for good. The groove they created had me transfixed, transformed, pinned down, stretched out, and mesmerized. I was in.
Their touring schedule brought them around a couple more times, in 1998 and again in 1999, but it has been a very long stretch since we've seen them. About three years ago, I sent them an email, and kept sending them emails, urging them to come back to Winnemucca and The Martin, if their travels ever brought them this way. Now it's finally going to happen. They are taking a flight from New York, out to Salt Lake City, to play a festival in Moab, Utah, and have agreed to take a little side trip to Winnemucca to see us again.
We're going to need a big, enthuastic crowd, so please get out there and get a ticket.
Tickets are $15, and they are ON SALE NOW!
Bio –
Karen and Pete first met on a stage and each immediately recognized the other as the ideal musical partner. Years of leading their all-original, dance-driven group imbued this duo with the power to sound like a full band, whether it's pulsing funk or haunting ballad. Electrifying, unique, and always uplifting, these improvisational performers possess "the fearlessness of a high wire act working without a net."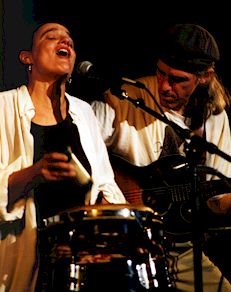 Karen Savoca puts her heart into a song the way a great actor throws herself into a role. Her supple, soulful alto is "both sex and spirit, growling and whispering the listener into submission". Savoca is a gifted songwriter, drawing you into her world with humor and compassion, telling her stories with such grace and ease, you feel as though you've been invited to her table for supper. Savoca composes and records on a variety of instruments, but opts for the primal combination of voice and drum in live performance, and the groove is deep and satisfying.
Pete Heitzman's "inspired and transcendent guitar work is central to their signature sound." He'll mimic a cello, a pedal steel, a rutting elk, and some things only imagined. With this broad pallet of tones and textures he paints the ideal landscapes for Savoca's engaging songs. An innovative and sensitive accompanist, Heitzman is so full of surprises that he has been called "a human aurora borealis". An 1890's church in the hills of upstate New York serves as home, recording studio and headquarters for their own Alcove Records.
Notable appearances include The Today Show, A Prairie Home Companion, Mountain Stage, Big Top Chautauqua, The Vancouver, Edmonton & Winnipeg Folk Festivals. They have recorded and produced other artists, their music has been heard in movies and documentaries, and they have scored two feature length films.