The Gillette Brothers
August 7, 2010 @ 7:00 pm
-
9:00 pm
PDT
Guy and Pipp Gillette, from their home in Crockett Texas, are once again on their way to a series of appearances in California, and they will make a stop for a show in Winnemucca on August 7.
Guy and Pipp appeared at a sold out show in Winnemucca last December, and they were a huge hit.  They perform a mix of traditional cowboy songs, and songs reflecting the Celtic roots, country blues, minstrel and medicine show songs that influenced cowboy music. For me it is always worth the price of admission just to watch and hear Guy play the rhythm bones, musical bones they make from cow ribs.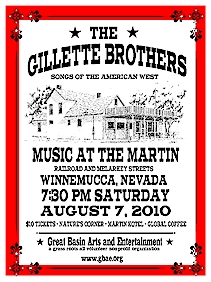 They have played at major events and venues around the country including: The 2008 Smithsonian Folklife Festival in Washington DC, The National Cowboy Poetry Gathering in Elko, NV, The Monterey Cowboy Poetry & Music Festival in Monterey, CA, The Santa Clarita Cowboy Poetry & Music Festival in Santa Clarita, CA, The Willow Tree Festival in Gordon, NE, The Arizona Cowboy Poets Gathering in Prescott, AZ; The Cherry Blossom Festival in Macon, GA; The National Arboretum in Washington, DC, The Buffalo Bill Historical Center in Cody, WY, and The National Cowboy & Western Heritage Museum in Oklahoma City, OK, The Museum of South Texas in Edinburgh Texas.
In August 2005, the Gillette Brothers traveled to Japan representing the State of Texas at the World Expo – Aichi/Nagoya, performing their music at the US Pavilion. In October 2008, the Gillette Brothers toured Somerset, England for two weeks, performing in village halls and the Bridgewater Arts Center.
They have demonstrated chuckwagon cooking at the Cowboy and Western Heritage Museum in Oklahoma City; the Ranching Heritage Museum in Lubbock, Texas; The Museum of South Texas in Edinburgh Texas; Dalton Days in Longview, Texas; and the Cherry Blossom Festival in Macon, Georgia.
Their cooking has been spotlighted in Persimmon Hill, the magazine of the National Cowboy and Western Heritage Museum; The National Cowboy Hall of Fame Cookbook by B. Byron Price; A Taste of Texas Ranching by Tom Bryant and Joel Bernstein; and the Spirit of the West: Cooking for Ranch House & Range by Beverly Cox and Martin Jacobs.
The Gillette Brothers were recipients of the 2009 AMERICAN COWBOY CULTURE AWARD for western music from the NATIONAL COWBOY SYMPOSIUM & CELEBRATION. They were awarded the 2003 and the 1998 Will Rogers Award for Outstanding Achievement in the Advancement of Contemporary Cowboy Music Best Duo/Group by The Academy of Western Artists. They have also received the National Cowboy Symposium's American Cowboy Culture Chuck Wagon Award.
The Gillette Brothers run The Camp St. Cafe & Store in Crockett, Texas a live music venue, much like the Martin Hotel, that has featured some of the top performers in the country.
They were also instrumental in getting a life-sized statue of Blues Legend Lightnin' Hopkins erected in Crockett.