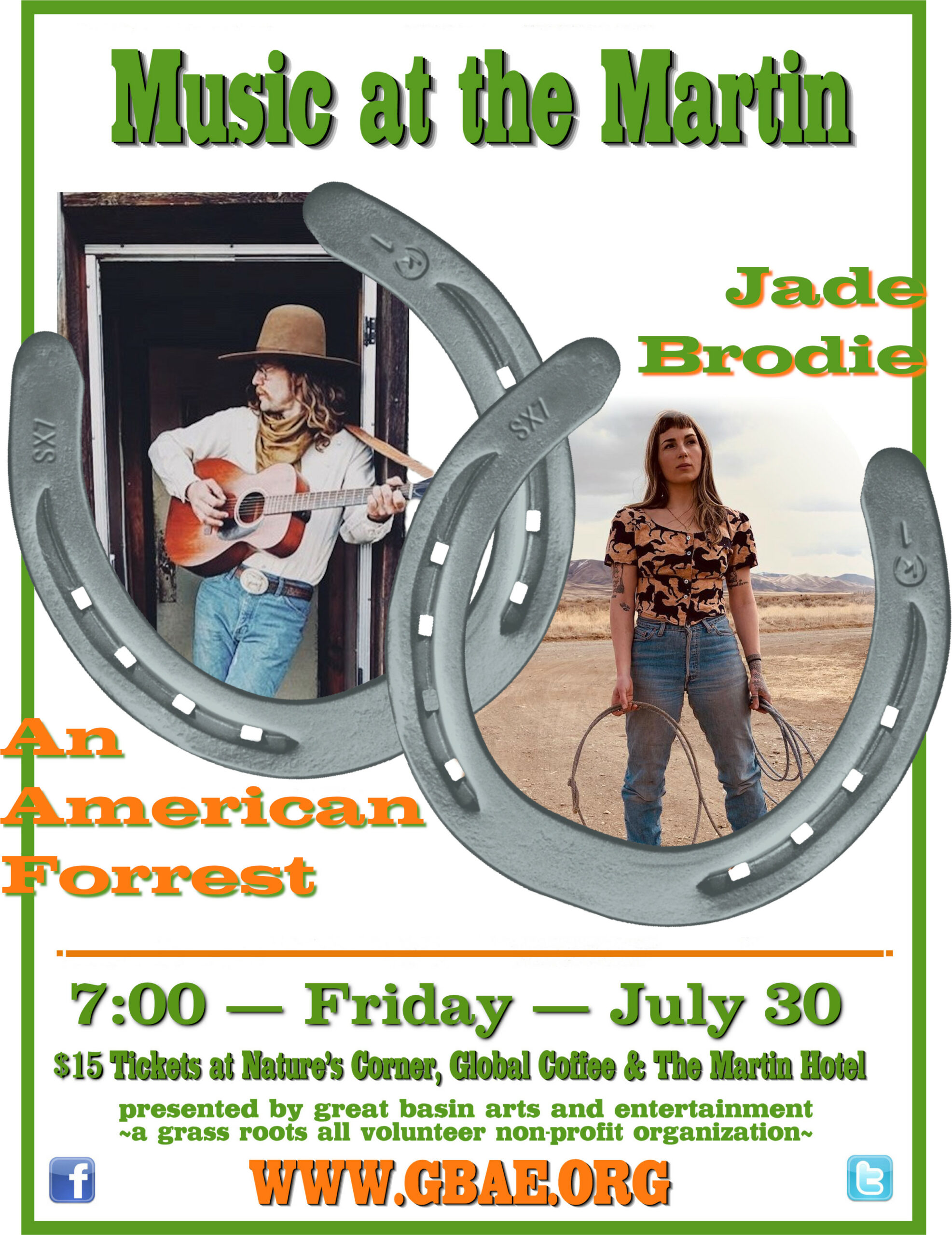 Jade Brodie and An American Forrest
July 30, 2021 @ 7:00 pm
-
9:00 pm
PDT
7:00 PM Friday, July 30, 2021
This came together on short notice from a wish to share our best with 700 souls in town for a two-week go throwing horseshoes.
JADE BRODIE
Jade Brodie once described herself as a railroading songstress from northern Nevada, but this year, she's spent more time punching cows than riding rails. Drawing inspiration from the blue collar hero and away-from-home lifestyle of itinerant workers, she writes songs with a heavy train beat, strong will, and simple poetry.
Originally from the near coastal towns of Sonoma County, California, she boomed around until she found a better life in Winnemucca, NV, she says.
Here's some recent work:
An American Forrest
Forrest Van Tuyl was born on a small western Washington farm. He drifted, working on farms, boats, and kitchens, until he found the wild northeastern corner of Oregon, where he runs a pack string and writes songs.
In the winter, Van Tuyl performs his cowboy songs and poems under the stage name An American Forrest. He has opened for Corb Lund (!) and warmed up crowds for Dave Stamey and John Craigie. He appears regularly at the National Cowboy Poetry Gathering in Elko, alongside legends like Ramblin' Jack Elliot and Ian Tyson.
From that long-ago pre-covid world of 2019:
We thank our willing performers and each of you able to pivot into the seats for this one. It's going to be memorable.
TICKETS WILL ALSO BE AVAILABLE AT THE DOOR.