Langroise Trio
January 8, 2011 @ 7:00 pm
-
9:00 pm
PST
wmca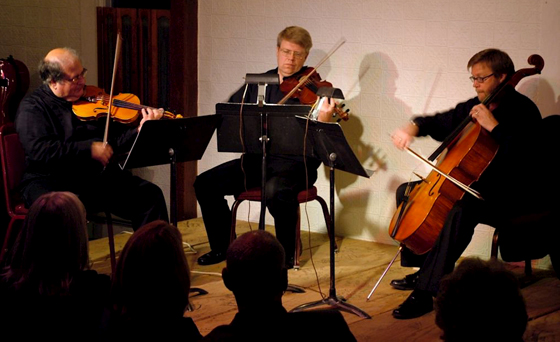 Established in 1991 the Langroise Trio are Artists-in-residence at The College of Idaho, where they form the string faculty. They have performed on chamber music series in Alabama, Florida, Idaho, Oregon and Washington, their fourth c.d. is in the planning stage, and the Trio was one of the first groups to give an "internet archived" concert on the Millenium Stage of the Kennedy Center.
With its personnel among some of the foremost musicians in the country, the Langroise Trio offers an eclectic repertoire. Contemporary works by Idaho composers Jim Cockey and David Alan Earnest have been written especially for them and they stylishly play music from the Romantic, Classical, Baroque and Renaissance eras as well.
Geoffrey Trabichoff is Concertmaster of the Boise Philharmonic. He is the former concertmaster of the BBC Scottish Symphony and former leader of the Paragon Ensemble of Scotland. Geoffrey has broadcast numerous concertos for the BBC. He has been guest concertmaster of the Royal Philharmonic and the London Symphony as well as the Northern Sinfonia, BBC Welsh and BBC Philharmonic Orchestras. He also served as concertmaster of the Mannheim Chamber and Hanover State Orchestras in Germany.
David Johnson has been principal violist of the Iceland Symphony and the Ft. Wayne Philharmonic, and a member of the Freimann Quartet. David was assistant principal violist for the Grant Park Symphony in Chicago and holds a Master of Music degree from Indiana University. He has been a featured soloist on numerous occasions and a featured artist on Iceland National Radio Broadcasts.
Samuel Smith has been principal cellist of the Ft. Wayne Philharmonic where he was a frequent soloist and a member of the Freimann Quartet. Samuel was also a cellist for the Grant Park Symphony of Chicago. He has served as assistant principal cellist of the Florida Symphony, and has been on the adjunct faculty at Anderson College and the summer faculty at Ball State University.
This project is funded in part by a grant from the Nevada Arts Council, a division of the Nevada Department of Cultural Affairs, and the National Endowment for the Arts, a federal agency.