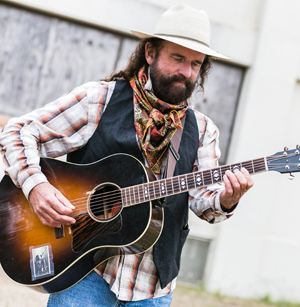 Mike Beck
January 28, 2014 @ 7:00 pm
-
9:00 pm
PST
Wednesday, January 28, 2014
7:00 PM at the Martin Hotel
Purchase your $10 tickets Now! On-line from The Martin Hotel or you can also buy them at our walkup outlets: The Martin Hotel, Nature's Corner, and Global Coffee.

In these parts of the United States, it's not at all unusual to encounter singer songwriters performing odes to cowboy life. It's a bit more unusual to come across those who sing from experience, as Mike Beck does.
A regular at the annual National Cowboy Poetry Gathering in Elko. Beck is renowned internationally for both his horsemanship and musical ability. Western Cowboy magazine has even placed two of his compositions on a list it titled "The 13 Best Cowboy Songs of All Time," putting him in the company of heroes such as Ian Tyson, Lucinda Williams, Tom Russell and Gene Autry, the original singing cowboy.
Beck's sixth album, TRIBUTE, was created as a celebration of horses and their unique bond with humans. Its 11 cowboy themed Americana tracks range from folk balladry ("20 Bucks a Gallon") to bluesier tunes and honky tonkers, each imbued with the trail dust and vast vistas of his beloved American West. Beck's signature Fender Bender shows up on the tracks "Don't Hurt My Heart" and "Amanda Come Home," the latter one of two songs paying homage to military veterans. The other is a cover of Wilbert Harrison's "Let's Work Together," made famous by Canned Heat and Bryan Ferry.

Beck's guitar playing has earned him comparisons to Stephen Stills, and praise from no less a legend than Woody Guthrie contemporary Ramblin' Jack Elliott, who says of Beck's picking skills, "Mike Beck plays the guitar like a Byrd. His strings do things that mine could never do. They obey the slightest finger touch commands like a fine reining horse."
Born and raised in Monterey, Calif., Beck attended the Monterey Pop Festival at 13 and liked what he heard, so he picked up a guitar and never looked back. He honed his songwriting skills and warm, engaging stage presence while riding the ranges of California, Nevada and Montana as a working cowboy. Today, he splits his non touring time between Monterey and Austin, Texas, sometimes performing with the Bohemian Saints, his Byrds /Burrito Brothers/ Stones influenced guitar band. While on the road, he also conducts horsemanship clinics, using techniques he learned from Tom and Bill Dorrance, Ray Hunt and others.
Beck recently helped develop a groundbreaking horsemanship program for the Joyful Horse Project, an Austin based non profit equine rescue group. Pairing combat veterans with horses undergoing rehabilitation from abuse or neglect, the program helps both to heal. Beck is donating all proceeds from sales of TRIBUTE to this new program.
Visit Mike online http://www.mikebeck.com