Nevada Arts Council Arts Town Meeting 4/7/2014
April 7, 2014 @ 5:30 pm
-
7:30 pm
PDT
The Nevada Arts Council is launching a series of Arts Town Meetings to engage in conversations with Nevadans across the state and explore the cultural needs of large and small communities, the role of the arts in the Silver State, and to evaluate its role as a state agency.
"The City of Winnemucca and Northern Nevada Arts Council are honored to be co-sponsors of this forum and hear both individual and collective 'values and visions' for our community and state," said Jean Kinney. The information gathered at these meetings, and through an online survey, will help shape the Nevada Arts Council's strategic plan, Values & Vision, 2016-2019.
"Everyone – artists, educators, parents, elected officials, business people and concerned individuals – is invited to our Arts Town Meetings. We've designed them as an occasion to acknowledge community vitality, discuss local challenges and set cultural priorities; as well as to gather information to update the NAC's strategic plan," notes Susan Boskoff, Nevada Arts Council Executive Director.
The 2014 Arts Town Meetings are co-sponsored by a variety of local nonprofit organizations, businesses and government entities.
For those who cannot attend an arts town meeting, or want to comment on specific issues, the 2014 Values & Vision Survey is available in English and Spanish on the Nevada Arts Council's website at nac.nevadaculture.org. Print copies are available by calling 775.687.6680.
The Nevada Arts Council, a division of the Nevada Department of Tourism and Cultural Affairs, is charged with ensuring that state and national funds support cultural activity and encourage participation in the arts throughout Nevada.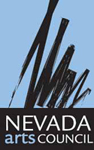 Nevada Arts Council Winnemucca Arts Town Meeting
Monday April 7, 2014
5:30 – 7:30 p.m.
Winnemucca City Hall
90 West 4th Street
Co-sponsors: City of Winnemucca, Northern Nevada Arts Council