Pert Near Sandstone
November 12, 2015 @ 7:00 pm
-
9:00 pm
PST
Straight from the Polar Vortex of Minneapolis
PERT NEAR SANDSTONE
American Stringband Music, Old Time, Bluegrass
7:00 PM Thursday, November 12, 2015
The $10.00 tickets are on sale now at the Martin Hotel, Nature's Corner, and Global Coffee. You can also buy them online at themartinhotel.com.
Take old time music off the back porch, throw out the hillbilly reputation, and put it in the hands of a group of guys that like to work hard and play even harder. Pert Near Sandstone rejuvenates American stringband music with raw energy; they play tightly-crafted original material that lends itself to the modern audience, as well as being stewards of the old-time and bluegrass traditions. They are just as at home playing fully acoustic in the traditional style as they are plugged in at an indie rock venue. From saloons to theaters, hollering into a single microphone and laying thick rhythm on driving fiddle melodies, their sweat-inducing, foot-stomping live performances keep crowds begging for more all night long.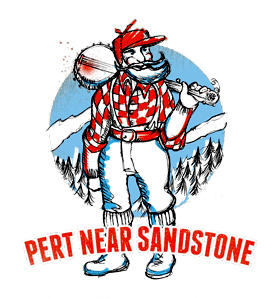 Pert Near Sandstone emerged from the same roots-based musical hotbed in Minneapolis that gave birth to Bob Dylan, The Jayhawks and Spider John Koerner. Originally formed by four friends from the same hometown, Pert Near Sandstone formed unintentionally over weekly, whiskey-fueled picking sessions in an old house in St. Paul, MN. They decided without any real intentions to start playing shows and the chemistry of their music and friendships, even early on, left people feeling like the party followed them everywhere they went. Word of the bands' uncanny ability to whip audiences into frenzies spread and they were invited to play some of Minnesota's most legendary venues including First Avenue, the Cedar Cultural Center and the Historic Orpheum Theater.
The band has been taking their show across the country, paying their dues in smoke filled taverns and roadside juke joints while organically building a dedicated following from coast-to-coast. Their formative years on the road painstakingly paved the Pert Near path as the band traversed from city-to-city winning over audiences "the old fashioned way"; face-to-face. Over the course of the next five years, the band maintained a full touring schedule appearing at many national festivals and sharing the stage with many legendary musical talents; the likes of Del McCoury, WILCO and Yonder Mountain Stringband.
In 2008, Pert Near Sandstone was hand-picked by Garrison Keillor to appear as the featured musical guest on A Prairie Home Companion where Garrison proclaimed that, "The group has become a force on the Minnesota roots music scene and beyond." Fellow Minnesota speed-grass band Trampled by Turtles is proud to wave the Pert Near flag high and wide with band leader Dave Simonett calling Pert Near Sandstone one of his "favorite contemporary bluegrass acts in the United States."
With previous appearances at Telluride Bluegrass Festival, Prairie Home Companion, Woodsongs Old-Time Radio Hour, Music City Roots and the International Bluegrass Music Conference plus five well received full-length original records and a 7" single, Pert Near Sandstone continues to build momentum.
Members:
Nate Sipe: Mandolin, Fiddle
Kevin Kniebel: Banjo
J Lenz: Acoustic Guitar
Adam Kiesling: Upright Bass
Andy Lambert: Clogs & Washboard