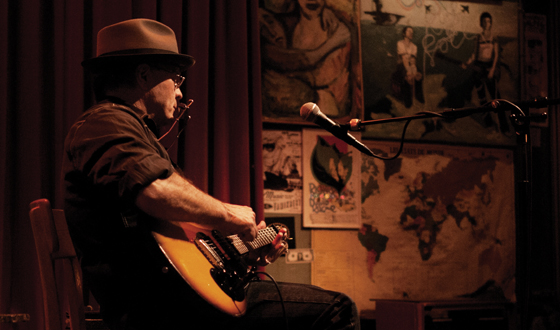 Ray Bonneville
May 14, 2015 @ 7:00 pm
-
9:00 pm
PDT
Slow Burning Blues with Roaming Bluesman and Poet
Ray Bonneville
The $15.00 tickets are on sale now at the Martin Hotel, Nature's Corner, and Global Coffee. You can also buy them online at themartinhotel.com.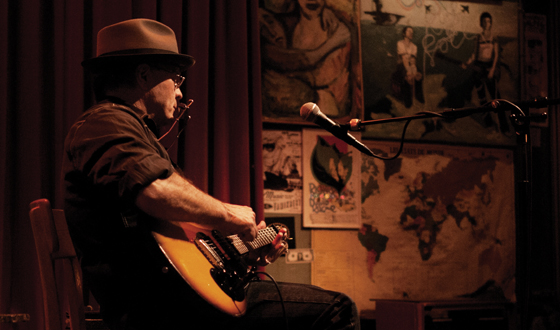 Ray Bonneville is a poet of the demimonde who didn't write his first song until his early 40s, some 20 years after he started performing. But with a style that sometimes draws comparisons to JJ Cale and Daniel Lanois, this blues-influenced, New Orleans-inspired "song and groove man," as he's been so aptly described, luckily found his rightful calling.  Born in Quebec, his family moved to Boston when he was 12. He served a year in Vietnam as a Marine, struggled and overcame drug addiction, earned a pilot's license in Colorado, then moved to Alaska, then Seattle, and Paris and New Orleans. But it took a close call while piloting a seaplane across the Canadian wilderness to make him decide it was time to get busy writing songs – gritty narratives inspired by a lifetime of hard-won knowledge set against his gritty, soulful guitar and harmonica playing.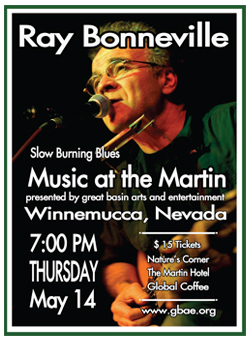 He's since earned many accolades, including a Juno Award for his 1999 album, Gust of Wind. His post-Katrina ode, "I Am the Big Easy," earned the International Folk Alliance's 2009 Song of the Year Award, and in 2012, Bonneville won the solo/duet category in the Blues Foundation's International Blues Challenge. He has guested on albums by Mary Gauthier, Gurf Morlix, Eliza Gilkyson, Ray Wylie Hubbard and other prominent artists, and shared songwriting credits with Tim O'Brien, Phil Roy and Morlix, among others. Slaid Cleaves placed Bonneville's "Run Jolee Run" on his lauded 2009 album, Everything You Love Will Be Taken Away.
Easy Gone, Ray's fourth album for Red House Records,  takes listeners to some of the dark spaces and exotic places Bonneville has gone on his own travels. An Austin resident since 2006, Bonneville still puts the rhythms and soul of New Orleans into much of his music. His songs carry a groove and momentum that's uniquely his — and will always be a part of him, no matter where he roams.