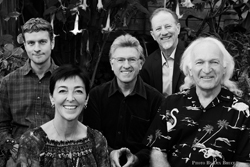 Nell Robinson & Jim Nunally Band
June 18, 2016 @ 7:00 pm
-
9:00 pm
PDT
Saturday, June 18, 2016
7:00 PM at the Martin Hotel
Purchase your $15 tickets Now! On-line from The Martin Hotel or you can also buy them at our walkup outlets: The Martin Hotel, Nature's Corner, and Global Coffee.
The Nell Robinson & Jim Nunally Band brings five genre-busting artists together to bring joyful music infused with folk, bluegrass, americana, roots, swing, jazz, and the blues. Alt-Roots, Folkbilly – whatever you call it – it's original, well done, and a pleasure to hear. Featuring Pete Grant on pedal steel, Jim Kerwin on bass fiddle and Jon Arkin on percussion. This is truly an all-star band.
The Nell Robinson & Jim Nunally Band released their new EP West in Berkeley CA on April 30th. West is the first of a four-part, five-song EP series named after one of the four cardinal points on a compass – North, South, East, and West – and a U.S. tour date will coincide with the appropriate region throughout 2016. East will be released with a special show in Washington D.C. at the end of June. When placed together, the back covers of the four releases will form one piece of art. Physical copies will be available for purchase for only $5 at all live shows, and digital versions will be available for purchase on iTunes and Amazon starting this June.
"We are excited about releasing a series of eclectic new works with a super talented band," said Jim Nunally. "We pay homage to great artists like George Jones, Buck Owens, Tammy Wynette, while our original songs like 'Mirror' take folk music in an entirely new direction. We aren't just following a path; we are paving a new one."
"Hey, five is the magic number this year, it's a number that signifies change and grace," added Nell Robinson. "Five songs per album for $5, five jazzed musicians … and I turn 55 this spring!"
Nell Robinson has been described as a "modern day Patsy Cline" and "one of the freshest voices in roots music." Her side-projects, from the poignancy of Soldier Stories to the whimsy of The Henriettas, further attest to the breadth and ambition of the youthful musical passions she let flower. Robinson's 2014 release "The Rose of No-Man's Land became a PBS Special with it's own episode in the Music Gone Public series. The abum, produced by Joe Henry, featured Ramblin' Jack Elliott, Kris Kristofferson, John Doe and Maxine Hong Kingston. "Music is the ultimate communication tool and Nell's songs, performance and album moved the WoodSongs audience deeply! A fine person and a fine artist, 'nuff said."- Michael Johnathon, Woodsongs Old-Time Radio Hour.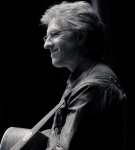 Jim Nunally is a San Francisco Bay Area-native, a musician, composer, record producer, and teacher. As a guitarist and vocalist with the David Grisman Bluegrass Experience for over 13 years, Jim joins master American guitarists Doc Watson and Tony Rice as one of the finest interpreters and performers of bluegrass and traditional music. He is a recipient of two Grammy and IBMA Awards and is a two-time Western Open Flatpicking Guitar champion. His work is featured on soundtracks for The Beverly Hillbillies Movie, Snoopy's Reunion, The Sims, Streets of SimCity and more. His third-generation traditional music roots began in Arkansas with his guitar-playing grandfather who taught Jim's father, who in turn taught Jim. This pedigree contributes to his unmistakably traditional sound.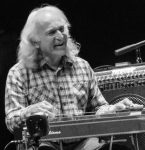 Pete Grant's resume looks like a who's who of music! He started playing banjo, guitar, and dobro in the early sixties in the San Francisco Bay Area. Sharing musical adventures with his friends Jerry Garcia, Jorma Kaukonen, Pat Simmons, and others, he has performed solo, in duos, and his own groups. The Grateful Dead album Aoxomoxoa was his first studio recording, from there he went on to become one of the most sought after steel players on the West Coast. Touring in Japan with Guy Clark, he played on Clark's second release, Texas Cookin'. Grant is a two-time nominee for Best Steel Guitarist by the Academy of Country Music.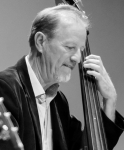 Jim Kerwin is considered simply one of the best string bass players in the country. He has played with David Grisman for over 30 years and is featured on all of Grisman's Jerry Garcia recordings, all of which boast a unique acoustic setting, encompassing a myriad of musical genres. A San Francisco State University graduate with a performance degree in solo double bass, he spent several years touring Europe with an avant-garde jazz trio led by vibist Larry Blackshere. He has performed with bluegrass greats Red Allen and Del McCoury and has played at Carnegie Hall with Stephane Grappelli and YoYo Ma. Kerwin is featured on numerous recordings – including six Grammy nominees – from big band and bluegrass to jazz and latin.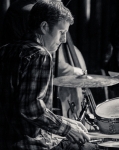 Jon Arkin is a versatile, gifted drummer/percussionist who is known for his performances & recorded work in a wide variety of musical contexts. In addition to leading his own groups, he has performed with jazz greats such as Lee Konitz, Gene Perla, and Ira Sullivan, with singer-songwriters including Stew and Meklit Hadero, Afrobeat bands Albino and Soji Odukogbe, a multitude of collaborators in the experimental music world, and countless other artists. He has just released an album of original experimental jazz with the Schimscheimer Family Trio entitled "Broken Home", and has developed a unique repertoire as a solo electro-acoustic percussionist. Could his bluegrass groove have come from his father? Steve Arkin played banjo with Bill Monroe and His Bluegrass Boys!