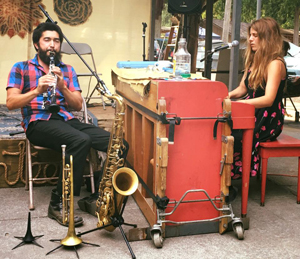 Stephanie Nilles w/ Thomas Deakin
April 27, 2018 @ 7:00 pm
-
9:00 pm
PDT
It's hard to say what will happen, and how this will end
7:00 PM, Friday, April 27, 2018
Purchase your $10 tickets Now! On-line from The Martin Hotel Tickets are also available at our walkup outlets, The Martin Hotel, Nature's Corner and Global Coffee in Winnemucca.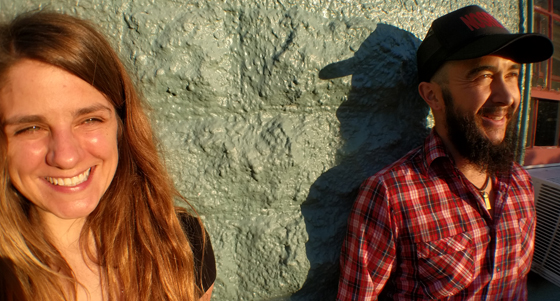 We met Thomas Deakin  in March of 2016 when he appeared at the Martin as part of the wonderfully odd duo Deakin Hicks, with his buddy and mystical music man Lucas Hicks. We had a very small audience that night that experienced this Chromatic Button Accordion and Clarinet duo perform "original compositions and improvisations twisted together in a unique blend of tone, time, and delight". Do check it out. They sat down on two five gallon plastic buckets, we drew the seats of up close, and we all enjoyed one of the best and most unusual concerts ever featured at the Martin. Sadly Lucas Hicks lost his 14 year battle against cancer last October, Thomas lost his musical partner, and Deakin Hicks was lost to the world.
Thomas Deakin has now joined up with New Orleans based avant-garde jazz keyboardist and singer Stephanie Nilles and we suspect that something highly interesting is going to happen when this duo hits the back room at the Martin.  Just give this video a listen, and imagine Mr. Deakin's clarinet, saxophone, or trumpet, wrapped in and around Ms. Nilles in place of the bass.
Chicago-born jazz/punk/barrelhouse musician Stephanie Nilles has been doin' Kesey proud one bar at a time since 2008, hustling around the United States, Europe, and Canada (except from 2009-2010 for legal reasons), averaging 150 gigs a year, and captivating unsuspecting listeners with a voice that would make Jelly Roll Morton look orthodox and Ma Rainey look sober.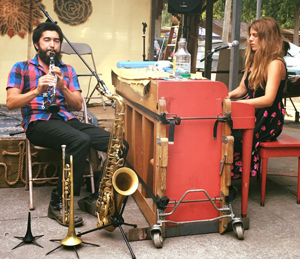 Having studied piano and cello since the age of six, she was a finalist at the Young Concert Artists' International Competition, a gold medalist at the Fischoff Competition, and had performed on NPR on three occasions by the age of seventeen. At twenty-two, she had graduated from the Cleveland Institute of Music with a degree in classical piano performance and temporarily relocated to New York City, where she began writing songs and performed regularly on the east village anti-folk scene while making a living working odd jobs as a dog walker, valet parking attendant, Italian coffee bar barista, ghostwriter, and research assistant to a blind bioethicist at an all boys' Jewish university.
She has since sung with Bobby McFerrin in Carnegie Hall, directed the musical program of a Brooklyn burlesque series, covered Busta Rhymes' "Break Ya Neck" in the skeletal remains of a bombed-out cathedral in Nuremberg, been invited to perform official showcases at SXSW and International Folk Alliance, and self-released 5 full-length albums, three of which were picked up for European release by German roots/blues label Tradition und Moderne (Taj Mahal, John Fahey).
When Stephanie's not sleeping in her car, she lives in New Orleans, which might not be the best idea.
Here are eight tracks from Stephanie Nilles: