Sweet Sunny South
May 26, 2010 @ 7:00 pm
-
9:00 pm
PDT
On Wednesday, May 26th the Colorado based old-time bluegrass string band Sweet Sunny South will appear at the Martin Hotel for their only Nevada date in 2010. The band will be featuring material from a new release that includes guest appearances by the Denver based jazz heavy, Ron Miles (Bill Frissell, Elvis Costello) on coronet and Phil Wade(The Wilders) on banjo and dobro. The CD entitled "Carried Off By A Twister" introduces a slew of new tunes and finds the band members stretching out in all sorts of new directions.  "Twister" is the 5th CD released by SSS and the band is coming up on their 10th year performing together.
SSS kicks off summer 2010 with a trip to Yosemite, CA for this Memorial Day weekend's Strawberry Festival (other acts there include Patty Loveless, Richard Thompson and Louden Wainwright III) and winds it up this year with another appearance at SW Colorado favorite Pagosa's "Four Corners Folk Festival". Sandwiched between are all kinds of great festival sets, theater shows and summer concert series all across Montana, Nevada, Wyoming, Colorado and more. Sign the email list at www.sweetsunnysouth.com for all the details and to find out about shows as they are added to the tour schedule. Come and get your copy of Sweet Sunny South's new release hot off the presses "Carried Off By A Twister"!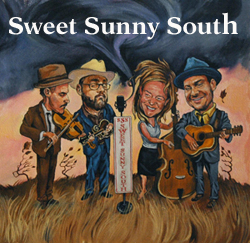 Sweet Sunny South is a four piece string band hailing from Paonia, Colorado consisting of guitar(Rob Miller), upright bass(Shelley Gray), fiddle(Cory Obert), mandolin and banjo(Bill Powers). The band makes original music that blends elements of bluegrass, old-time, country, and swing to create a decidedly unique sound. Their specialty is creating a full entertainment experience through live performance, a journey if you will, taking the audience along for the ride across dusty landscapes of the American countryside. There's high lonesome ballads, for the winsome and rocking old-time fiddle tunes for the dancers.  All four members sing and play around a single microphone and while this approach brings to mind the glory days of the Grand Ol' Opry, the band's sound feels new, fresh and dynamic. Smiles warm the room while real, true music fills the air. Sweet Sunny South's vibe is contagious and gives everyone permission to feel good.