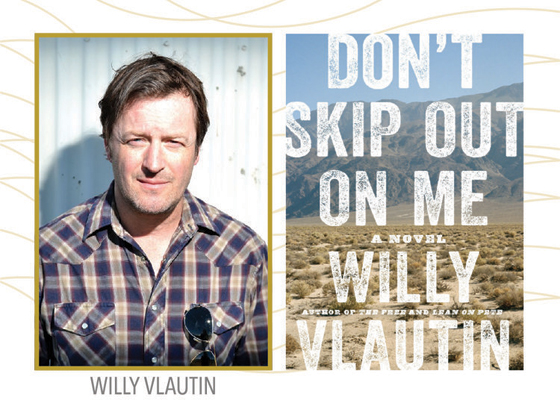 Nevada Humanities Presents Author Willy Vlautin
September 13, 2019 @ 7:00 pm
PDT
Great Basin Arts and Entertainment is acting as the local host for this event which brings the Nevada Humanities' Nevada Reads project to Winnemucca. We have hosted Willy and his band Richmond Fontaine several times for Music at the Martin, and we're very excited to bring him back for this special literary event.
Willy Vlautin in Concert and Conversation
7:00 PM Friday, September 13, 2019
at the Martin Hotel
The evening is free of charge and open to all ages. 
Willy will read selections from and discuss his novel, Don't Skip Out On Me, a moving story about a young man's search for belonging. Events include a Q + A, a book signing, and even some music.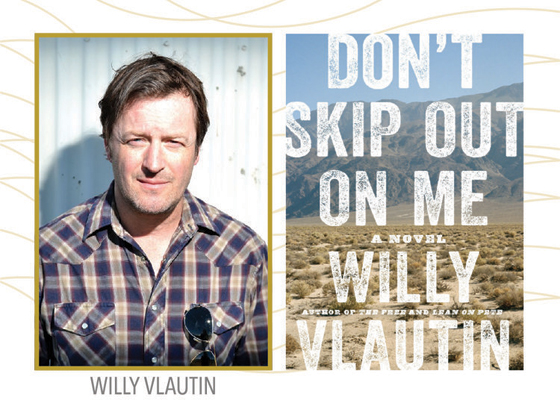 Nevada Humanities will welcome author Willy Vlautin at a series of events throughout northern Nevada during the month of September. Mr. Vlautin is the author of Don't Skip Out On Me, a 2019 pick for Nevada Reads—a statewide, public book club offered by Nevada Humanities. Nevada Reads invites Nevadans to read selected works of literature and to come together in their communities to share ideas and perceptions inspired by the book club selections.
"Nevada Humanities is thrilled to welcome this author of the enthralling novel Don't Skip Out On Me back home to Nevada," said Christina Barr, Executive Director of Nevada Humanities. "If you live in northern Nevada, we invite you to join us at one of these upcoming events to engage in what will certainly be lively and enlightening discussions."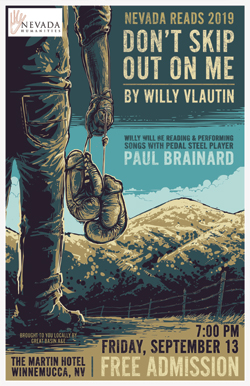 Born and raised in Reno, Nevada, Willy Vlautin started playing guitar and writing songs as a teenager and quickly became immersed in music. It was a Paul Kelly song, based on Raymond Carver's Too Much Water So Close to Home, that inspired him to start writing stories. Vlautin has published five novels: The Motel Life (2007), Northline (2008), Lean On Pete (2010), The Free (2014), and Don't Skip Out On Me (2018). He is also the frontman of the band Richmond Fontaine, whose many albums include Post to Wire, and more recently founded The Delines. He now lives in Portland, Oregon.
About Nevada Humanities, Nevada Reads, and Nevada Center for the Book:
Nevada Humanities is one of 56 independent, nonprofit state and territorial humanities councils affiliated with the National Endowment for the Humanities. With offices in Reno and Las Vegas, Nevada Humanities creates public programs and supports public projects statewide that define the Nevada experience and facilitate the exploration of issues that matter to the people of Nevada and their communities.
Nevada Reads and Nevada Center for the Book are programs of Nevada Humanities that are made possible with support from Nevada State Library, Archives, and Public Records; the Institute of Museum and Library Services; and the National Endowment for the Humanities. The Library of Congress' Center for the Book promotes books and libraries, literacy and reading, and poetry and literature.
To learn more about Nevada Humanities, Nevada Reads, and Nevada Center for the Book, visit nevadahumanities.org.