Our favorite porch music, a Winnemucca tradition, and the best purveyor of cowboy music in America today. TICKETS ARE ON SALE NOW!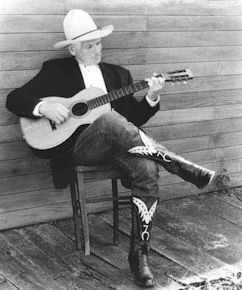 In what has become a tradition, Don Edwards will be at the Martin Hotel at 7:00 PM on Monday, January 26, for a performance before he moves on to Elko to join in the 25th Annual Cowboy Poetry Gathering. Folks at the Western Folklife Center in Elko told me yesterday they still have tickets to this great event and if you need one, rooms are still available at many motels in Elko.
Don represents the best of what Great Basin Arts and Entertainement is all about.  He is a truly great singer, guitar player, folklorist, storyteller,  engaging entertainer, and one of the finest gentlemen we have ever met.
This Grammy nominated singer-guitarist continues to build a legacy that enriches our vision of the American West. In tales of the day-to-day lives and emotions of those who have lived it, his ballads paint a sweeping landscape of both mind and heart, keeping alive the sights, sounds and feelings of this most American contribution to culture and art. The quality of this cowboy balladeer's music stems from the fact that he is so much more than a singer. Bobby Weaver of the National Cowboy Hall of Fame in Oklahoma City, summed up Edwards' importance as "… the best purveyor of cowboy music in America today." Continue reading "Don Edwards – Songs of the American West
7:00 PM Monday, January 26″