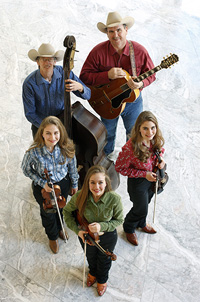 When Grace, Sophia and Hulda Quebe (pronounced kway-bee) take to a stage, audiences marvel – first at the sight of three young girls ready to please. When they raise their fiddles and play, audiences marvel again at the intricacy of the sound issuing forth. When the girls sing their vintage-style three-part harmony, audiences are blown away. Add the rhythm guitar of Joey McKenzie and the upright bass of Drew Phelps, and the Quebe Sisters Band becomes a force of nature.
Whether it's a Western swing classic a la Bob Wills and the Texas Playboys, a swing standard (Benny Goodman), vintage country shuffle (Ray Price) or Western anthem that would do Sons of the Pioneers proud, the girls are phenomenal. The house comes down, too, when they launch into bluegrass or a traditional, Texas old-time fiddle breakdown.
Reaction is the same wherever the Fort Worth-based group goes, and it's been around, to concert halls, festivals, cowboy gatherings and rodeos across North America, as well as The Kennedy Center, the Grand Ole Opry and NYC's Lincoln Center. Concert performances from Canada to California and Austin to Boston to Bangor, Maine, include shows with Ricky Skaggs and Kentucky Thunder, Asleep at the Wheel, Merle Haggard, Riders in the Sky and The Reno Philharmonic.
Investor Warren Buffet was so impressed by the band's rendition of "Red River Valley" at a Berkshire Hathaway shareholders meeting that he was moved to sit in with a ukulele and sing along. Singer-songwriter Jimmy Buffett said the band's "blend of swing with a dash of contemporary color … so unique in today's music world" and its "cannonball of stage presence … stopped me in my tracks … Man, can they play."
TIMELESS, the band's debut album on FiddleTone Records, features the Sons' "Red River Valley" along with Duke Ellington's "Take the 'A' Train," Spade Cooley's "Shame on You" and Hoagy Carmichael and Stuart Gorrell's "Georgia on My Mind" – just what is promised: a collection of band members' favorite tunes by their favorite artists, given the QSB-style golden touch.
In 2008, the band will showcase at Austin's SXSW Music Festival & Media Conference in March, continue with gigs slated nationally behind the release and perform at private engagements – with two new awards in hand: 2007 group/duo of the year from the Academy of Western Artists and the 2007 Crescendo Award from the Western Music Association.
As fast as a Texas fiddle breakdown, the Quebe sisters went from watching a fiddle contest and falling in love with real fiddle music to lessons with both band-mate-to-be and three-time world champion fiddler McKenzie and his wife, Sherry, to winning state, regional and national fiddle championships to singing together – finding themselves gloriously talented, loving it and joyful to share it with others.
$15 Tickets are on sale now at the Martin Hotel and Nature's Corner.