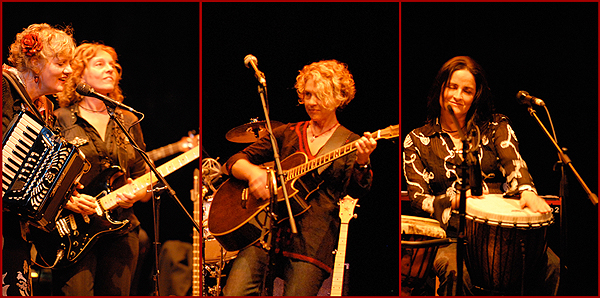 Blame Sally
November 4, 2009 @ 7:00 pm
-
9:00 pm
PST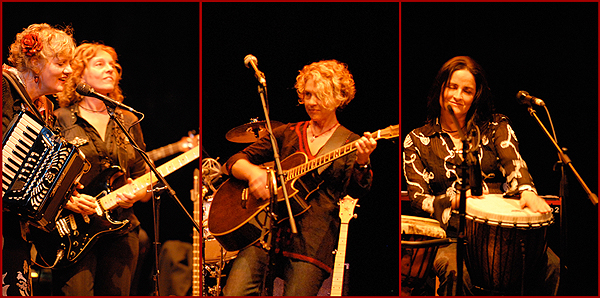 San Francisco Band Finds Unconventional Success
"…the band has the songs, the chops and the pipes to back up their tough-talking, clear-minded folk rock." Santa Cruz Sentinel
In these strange times of job layoffs and uncertain futures, the San Francisco band BLAME SALLY is characteristically bucking the trend. Pam Delgado, Jeri Jones, Renee Harcourt and Monica Pasqual hit their stride well after the first blush of youth, watching their audiences grow and their independently-released record sales balloon as they set their own career pace and direction. In the fall of 2008, the mid-life women of BLAME SALLY signed a one-of-a-kind, five-year, three -album recording contract in the mid-six figures with Bay Area Opus Music Ventures, backed up by generous creative and tour support that enabled them to finally become full-time musicians. The ink was barely dry on the contract before BLAME SALLY found themselves in a brand new, state-of-the-art recording studio and in the very capable hands of Grammy-nominated producer, Lee Townsend, (Bill Frisell, Louden Wainwright, Noe Venable, Crooked Still).
The resulting album, Night of 1000 Stars, was released in May 2009. As they have always done, BLAME SALLY uses personal and topical issues to fuel their powerful songwriting and jubilant ensemble musicianship. Whether through the anguished voice of an Afghan war veteran, the cancer survivor finding some humor in new age bromides or the woman who's passion comes on like a summer thunderstorm, each track on Night of 1000 Stars is rich with authenticity and emotion.
A unique collective of four distinct voices and musical backgrounds, BLAME SALLY has forged a compelling and original sound that has earned the band the well-deserved reputation as "Bay Area phenomenon". The San Francisco Chronicle raved that BLAME SALLY's music "…recall(s) the artful romanticism of Jane Siberry, the rich folk harmonies of the Indigo Girls, and the percolating soulfulness of Joy of Cooking." Poised for greater national attention, they've performed for audiences across the US, sharing festival stages with the likes of Los Lobos, Ani DiFranco, Richard Thompson, Roseanne Cash and Greg Brown.
In 2007 BLAME SALLY launched a national radio campaign covering both AAA and Non-Com stations and reached an audience of millions through XM Satellite Radio's Starbuck's XM Café where the band's previous album Severland charted at number one.
BLAME SALLY is already out on the road, touring non-stop, with US and European dates booked through the end of the year.