Shakespeare's Troupe
October 23, 2009 @ 7:00 pm
-
9:00 pm
PDT
At one o'clock in the the morning, all kinds of strange things are going on.  This army is about to enjoy some well deserved rations to celebrate their victory, and recover from their defeats earlier this evening, as they often met in pitched battle on stage in Winnemucca for their production of Macbeth.  The director and the  cast of the traveling Nevada Shakespeare Company stopped briefly for a photo during what seemed to be a re-creation of a scene from the play during their late night dinner at the Winnemucca Inn.
And yes, and the sword fights lived up to their billing, the witches were stunning, the whole performance ran like a watch, and they ALL delivered a terrific performance. They still have four shows on their schedule, and they truly deserve to play to a packed house each night.
Their next show is Friday, October 23 at Piper's Opera House in Virginia City; and then three performances in Reno at the Laxalt Auditorium, October 29, 30, and 31.  ADMISSION: All Reno shows are free. Admission to the Piper's Opera House show is $15 general and $10 for students and seniors. Tickets will be available at the door.  ON THE WEB: www.Nevada-Shakespeare.org
If you are member of the troupe, or were in the audience last night, we would love to hear from you.  Leave a comment below, and share your thoughts.
From the Reno Gazette Journal's Sunday edition, later today: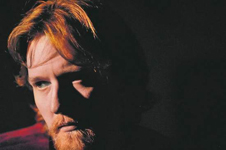 By Forrest Hartman • forrest@rgj.com • October 18, 2009
Since 2002, Nevada Shakespeare Company has been a scaled-down model of its former self, concentrating on educational outreach programs and small productions requiring only a handful of actors. That changed Friday when the company trotted out its first full-blown stage show in seven years, a touring production of William Shakespeare's "Macbeth."  more….