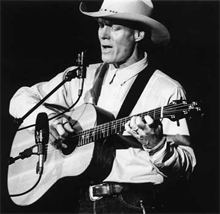 Chuck Pyle
November 4, 2011 @ 7:00 pm
-
9:00 pm
PDT
The Zen Cowboy
A virtuoso guitarist with a Will Rogers-like wit
7:00 PM Friday, November 4, 2011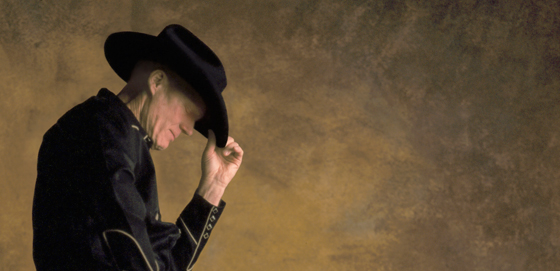 Chuck Pyle has won high praise from both fans and peers alike throughout an inspired performance career of over 40 years. When reviewers first gave him the "Zen Cowboy" moniker, he decided to, as he says, "Always ride the horse in the direction it's going," and took the nickname to heart, shaving his head and blending his upbeat perspective with old-fashioned horse sense. He mixes infectiously hummable melodies with straight-from-the-saddle poetry, quoting bumper stickers, proverbs, world leaders and old cowboys.
An accomplished songwriter, Chuck's songs have been recorded by John Denver, The Nitty Gritty Dirt Band and Suzy Bogguss. Country fans know him best for writing, "Cadillac Cowboy", recorded by the late Chris LeDoux, and "Jaded Lover", recorded by Jerry Jeff Walker.
While fans love his recordings, they adore Chuck's live performance. The first time he made an audience laugh, he was "hooked". A nimble guitarist, critics say his sense of rhythm is more like a fine classical, or jazz, soloist, his songwriting musically sophisticated yet full of uncluttered space. The Chuck Pyle Finger-Style approach to guitar has distinguished him as a true original, earning him invitations to teach at such prestigious events as The Puget Sound Guitar Workshop and The Swannanoa Gathering. His music has made him a favorite of Bill & Melinda Gates who have had him play at their home in Seattle. Since writing the theme-song for a PBS series called Spirit of Colorado, he's attained local fame, and even sings for the opening session of the Colorado State Legislature.
Chuck Pyle came from Iowa in 1965 when, "Boulder was mostly gravel streets", and resides on the front range of Colorado. He does 100 dates a year all across the country, playing festivals and theaters, coffeehouses and house concerts.
His 11th CD, THE SPACES IN BETWEEN is twelve all-new songs, each with finger-style guitar out front of a crackerjack rhythm section. The embellishments are elegant, with everything from fiddle to uilleann pipes, grand piano to ukulele; each song's a hummable melody guaranteed to make you tap your inner feet. In the middle of the night, Chuck began writing down the words to the CD's opening song, called Dream Song, and the more awake he became, the better it sounded. Picking Out My Outfit is about Man's need to look casual, Copper John is about the favorite nymph of fly-fisherman and Wide Open is about Wyoming's bigness. The rest of the songs are classic Chuck Pyle truth-telling; one man's outlook seen from a life-in-motion as he continues to gather traction and gravity.