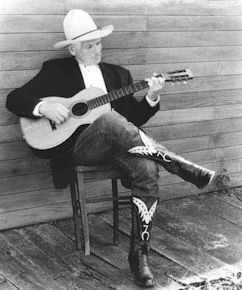 Don Edwards
August 23, 2012 @ 7:00 pm
-
January 31, 2023 @ 9:00 pm
PDT
The best purveyor of cowboy music in America today.
7:30 PM, Thursday, August 23, 2012
The $15.00 tickets are on sale now at the Martin Hotel, Nature's Corner, and Global Coffee. You can also buy them online at themartinhotel.com.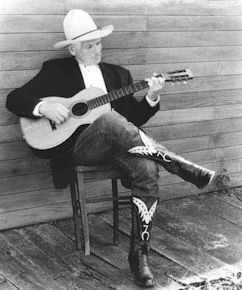 Don represents the best of what Great Basin Arts and Entertainment is all about. He is a truly great singer, guitar player, folklorist, storyteller, engaging entertainer, and one of the finest gentlemen we have ever met.
This Grammy nominated singer-guitarist continues to build a legacy that enriches our vision of the American West. In tales of the day-to-day lives and emotions of those who have lived it, his ballads paint a sweeping landscape of both mind and heart, keeping alive the sights, sounds and feelings of this most American contribution to culture and art. The quality of this cowboy balladeer's music stems from the fact that he is so much more than a singer. Bobby Weaver of the National Cowboy Hall of Fame in Oklahoma City, summed up Edwards' importance as "… the best purveyor of cowboy music in America today."
An historian, author, and musicologist, unusually well – versed in cowboy lore and musical traditions, Don brings a rare complement of knowing and loving his craft. Mostly though, there is the soul of a poet; a man who has never succumbed to the temptations of presenting a glamorized or romanticized version of the West. Edwards deals with bad weather, petty motivations, sadness, nostalgia and longing, as parts of the landscape like any other.
The son of a vaudeville magician, Don was aware as a child of a vast cross-section of music from classical to jazz, and blues to western-swing. Many of those influences enter his own music as they did the music of the West. Edwards was drawn to the cowboy life by the books of Will James and was presented the Will James Society's "Big Enough Award" which is presented annually to someone who personifies the Western and Cowboy way of life and their achievements. He also loved the 'B' Westerns of the silver screen, particularly those featuring "sure-'nuff cowboys" like Tom Mix and Ken Maynard. He taught himself guitar at age ten, and in 1961, he got his first professional job as an actor/singer/stuntman at Six Flags Over Texas. In 1964, Don released his first recording on REN Records of Dallas.
Don became part owner of The White Elephant Saloon in the Fort Worth Stockyards where ballad hunter and historian, John Lomax collected cowboy songs. Subsequently, Esquire magazine named The White Elephant one of America's 100 best bars. Edwards also began playing throughout Oklahoma and Texas, and with the birth of the Cowboy Poetry Gathering in Elko, Nevada, he achieved widespread recognition. He has now entertained throughout the United States, Canada, Great Britain, Ireland, New Zealand, Europe and the Far East.
Don Edwards has two recorded anthologies of cowboy songs, Guitars & Saddle Songs and Songs of the Cowboy, included in the Folklore Archives of the Library of Congress. These anthologies have been re-recorded and expanded for Western Jubilee Recording Company as the 32-song double CD/cassette, Saddle Songs. This project was awarded first place as the Best Folk/Traditional Album at the annual 1998 INDIE Awards Ceremony. National Cowboy & Western Heritage Museum in Oklahoma City has awarded Edwards five prestigious Wrangler Awards for Outstanding Traditional Western Music. He has received multiple awards from the Western Music Association for Male Vocalist and Performer of the Year. Edwards, along with co-presenter, Waddie Mitchell, was seen on the network-televised Academy of Country Music Awards and was the featured performer for the Los Angeles' Golden Boot Awards. In April 2000, Edwards was immortalized onto the Walk of Western Stars by the City of Santa Clarita, CA.
Don has presented seminars at Yale, Rice, Texas Christian and other universities. His recordings under the Warner Western label, Goin' Back to Texas, Songs of the Trail , The Bard & The Balladeer and West of Yesterday spawned a new audience for his craft. The summer of 1997 found Don Edwards in Livingston, Montana portraying the role of Smokey in Robert Redford's film The Horse Whisperer. In addition to his acting/singing role, Don is featured on the MCA soundtrack. In May of 1998, to coincide with The Horse Whisperer theater release, Warner's compiled and released The Best of Don Edwards while Western Jubilee offered Don's My Hero Gene Autry recorded live at Mr. Autry's 90th Birthday. His next two recordings for Western Jubilee resulted in two more visits to Oklahoma City, both receiving the Outstanding Traditional Western Music Recording of the Year – A Prairie Portrait (April 2001) with Waddie Mitchell and the Fort Worth Symphony Orchestra and Kin To The Wind, Memories of Marty Robbins (April 2002). In the Fall of 2002, Western Jubilee released an important special project: Don Edwards and Bluegrass icon, Peter Rowan teamed up on High Lonesome Cowboy. This recording traces the roots of Western music from Appalachia to Abilene and includes legendary musicians, Norman Blake and Tony Rice. High Lonesome Cowboy resulted in a Grammy nomination for 2002 – the first time Cowboy music has ever been nominated for this prestigious award. In 2003, Western Jubilee offers Saddle Songs II – Last of the Troubadours, 32 more Classic Cowboy Songs, which was followed by Don's newest book, Saddle Songs – A Cowboy Songbag. 2005 found Don Edwards' solo concert and personal appearance schedule the busiest to date. The Warner Herzog film production, Grizzly Man was released featuring Don's recording of Coyotes at the conclusion of the movie. In April 2007, Don Edwards newest Western Jubilee recording Moonlight And Skies received the Wrangler Award (his sixth) for Outstanding Traditional Western Album of the Year from the National Cowboy and Western Heritage Museum. The album contains Coyotes along with 12 other little gems Don found along the trail.
The richness of Don's voice coupled with an unforgettable stage presentation makes Don Edwards America's number one Western singer and concert attraction. The accolades have been simply added bonuses for Edwards, who sings what he does out of love and respect for the genre. Don's career continues to blossom, and luckily for all who care about it, he has because of his sincere approach, added much to the literature and music of the West, passing on to the rest of us a rich legacy.