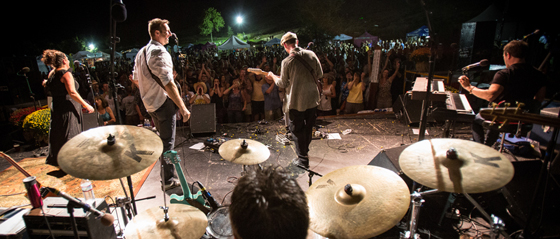 The David Andrews Band
July 17, 2015 @ 7:00 pm
-
9:00 pm
PDT
Intelligent and Beautiful Americana Roots Rock
7:00 PM Friday, July 17, 2015
The $15.00 tickets are on sale now at the Martin Hotel, Nature's Corner, and Global Coffee. You can also buy them online at themartinhotel.com.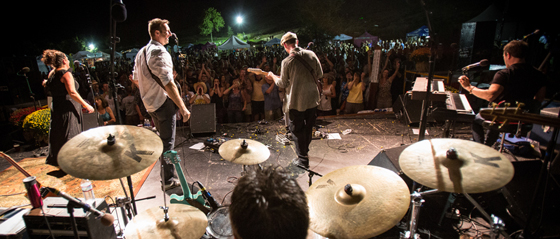 David Andrews has been a member of the national music scene now for more than 25 years. A respected and reputable singer/songwriter, David delivers sentimental lyricism with a gritty, yet refined musical style that Performing Songwriter Magazine describes as, "achingly beautiful and intelligent".
David's success began in 1990 when he co-founded and fronted the ever popular jam band CALOBO with his life-long friend Caleb Klauder. Based out of Portland, OR this group would become one of the nation's most successful independent jam bands, a reputation earned through relentless touring and by building a massive fan base. CALOBO record sales have reach an estimated 150,000 despite their disbanding in 2001. With the arrival of the 21st century, the band members parted ways and started new projects such as The Decemberists, Foghorn Stringband, Caleb Klauder Country Band, Black Prairie and Macka Bella.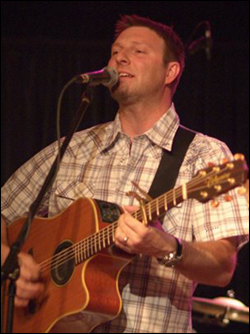 In 2001 David released his second solo recording, "Get Me Out of This Place", which garnered considerable radio attention and sent his band on several national tours to include stops in New York, Chicago, Los Angeles, Nashville and Austin's SXSW Music Festival. This, on the heels of his debut release, "The Little Things", which charted on three Northwest Top 20 lists. During one of his U.S. tours David stopped the band in Chicago to record an EP called, "Waiting for Henry". With three titles in hand, touring eventually led David to relocate to Nashville, Tennessee to record his fourth effort, "Everything to Lose" in 2004.
Helmed by producer Marvin Etzioni (Counting Crows), an A-list group of musicians was convened to record David's most mature and heart-felt release to date. With members from such acts as Wilco, Bob Dylan, Dixie Chicks, Rod Stewart, Jackson Browne and John Mayer, this recording would again send the band on the road for 10 months of U.S. and European tour dates.
By the end of 2004 radio play and sales of David's records reached as far as Japan, Belgium, Italy, Holland, Australia, UK, and Denmark. While touring in support of "Everything to Lose" David found an affinity for Boise, Idaho and eventually relocated there in 2005. Three years later, David released another full-length recording, "Live at the VAC". While this CD is comprised of all live performance tracks, all of them were previously unrecorded and they were written specifically for the release. For this project David enhanced his band's soundscape by adding a horn section, a string section and a collage of back-up singers.
In 2009 David began focusing his time on stage doing charitable fund-raising concerts, one of which included a VIP soiree for the Special Olympics Winter Games Donors. "This was a special time in Boise and our community stepped up in every way to host the games, which created not only a bond within our own culture but also a connection with the tens of thousands of visitors from 119 countries around the world." David and his band were also a headlining act for the NBC-televised closing ceremonies, playing to a sold-out audience of 11,000.
In 2010, David was invited to join jazz phenom and Emmy-nominated Curtis Stigers for his annual Christmas benefit concert at the Egyptian Theater. A collaboration preceded the event when David invited Stigers to the recording studio to guest appear on his newest holiday single, "Christmas Day". This track is now heard annually on Boise radio airwaves between Thanksgiving and Christmas, also available on iTunes. For his latest release, David compiled a 5 song sampler as a way to help raise money for the charities that he supports, titled "Innocent Eyes".
Give a Listen: