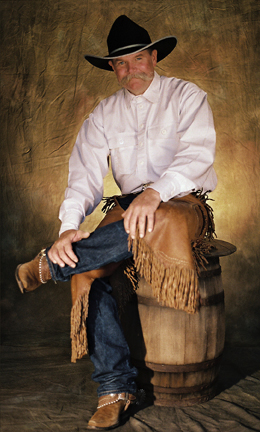 Waddie Mitchell
December 29, 2012 @ 7:00 pm
-
9:00 pm
PST
Buckaroo Poet
Winner 2012 Nevada Heritage Award
7:00 PM, Saturday, December 29, 2012
The $15.00 tickets are on sale now at the Martin Hotel, Nature's Corner, and Global Coffee. You can also buy them online at themartinhotel.com.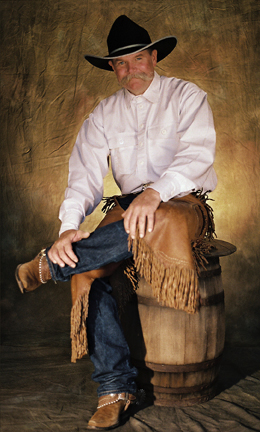 "I can't ever remember 'finding' cowboy poetry," Waddie Mitchell says of the entertaining and enduring art of storytelling. "It was always there. The cowboys sure never called it poetry. I know I wouldn't have liked it if they would have. Seems like an oxymoron, don't it!?"
From his earliest days on the remote Nevada ranches where his father worked, Waddie was immersed in the cowboy way of entertaining, the art of spinnin' tales in rhyme and meter that came to be called cowboy poetry, a Western tradition that is as rich as the lifestyle that gave birth to it. Within his stories, old in a voice that is timeless and familiar, are the common bonds we all share, moments both grand and commonplace, the humorous and the tragic, the life and death struggles and triumphs that we each recognize. And yet, Waddie presents his material with personal insights and the lessons learned during his life spent as a buckaroo.
"All the time I was growing up we had these old cowboys around," he says. "When you live in close proximity like that with the same folks month after month, one of your duties is to entertain each other, and I suppose that's where the whole tradition of cowboy poetry started. You find that if you have a rhyme and a meter to start that story, people will listen to it over and over again," Waddie states in his down-to-earth description of its beginnings.
"When my imagination first got let out of the gate, it was from an old-time cowboy, with a story set to rhyme," he says in his second recording from Warner Western, Lone Driftin' Rider. By the age of 10, he was reciting poetry himself; at 16, he quit school to follow his heart and went to making his living as a
cowboy.
There came a time though, which he relates in his poem Where To Go, when he had to choose between being a full-time cowboy (he managed a 36,000 acre ranch in Lee-Jiggs, Nevada) and the art form that he loved so much. In 1984, he helped organize the internationally recognized Elko Cowboy Poetry Gathering and gave his first public performance. Although Waddie didn't think anyone would be interested, (he thought it would be a pretty good party for the weekend) the first Cowboy Poetry Gathering was set for a cold, snowy weekend in January. This was one of the only times Waddie and his fellow cowboys were free from ranch duties. More than 2,000 people showed up, and Waddie was off and running.
In 2012 Waddie Mitchell received the prestigious Nevada Heritage Award from the Nevada Arts Council.  He continues hosting and performing at festivals, private gatherings, rodeos, corporate events, concert halls and an extraordinarily wide variety of functions. The Reno Gazette-Journal published a list from a panel of writers, historians and other notables, who selected the Top 20 Artists, Authors and Entertainers To Influence Nevada in the 20th Century. Sure enough pards, there was Waddie!