Dave Stamey
March 12, 2016 @ 7:00 pm
-
9:00 pm
PST
Great original songs and stories of the American West
Saturday, March 12, 2016
7:00 PM at the Martin Hotel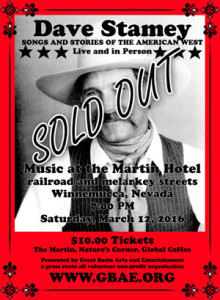 Dave Stamey has been bucked off and stomped by many horses. He has been stepped on by mules and dragged around branding pens by cattle of many sizes. He's ridden in the rain, in the snow, in the rain some more, in pretty nasty heat, and in feedlot pens where the air was thick and decidedly fragrant. He's even wrangled dudes.
He is an entertainer now, and makes his living inflicting himself upon innocent people at music festivals, agricultural banquets and backyard barbecues. He finds he prefers this. He has been voted Entertainer of the Year, Male Performer of the Year and Songwriter of the Year by the Western Music Association, and Male Vocalist of the Year by the Academy of Western Artists.
Cowboys and Indians Magazine has called him "the Charley Russell of Western Music."  He's delighted audiences in fourteen states, and finds that he prefers this to being stomped by angry horses.
He lives in Nipomo, California. He bets you don't know where that is.