The Foghorn Stringband plays old time string band music deeply rooted in the American folk tradition. It's a pre-copyright, post-bluegrass style, but the members of Foghorn put their own stamp on it. Stephen "Sammy" Lind's fiddle and Caleb Klauder's mandolin play tight unison lead lines supported by Peter Leone's three-finger banjo picking and anchored by the bedrock rhythms  of Nadine Landry's bass. It's a sound that could be coming to you from a big console radio in a 1930's living room, or an Appalachian front porch; instead it's being delivered by a group of players from the thriving old time music scene of Portland, Oregon. Proof positive that folk music will remain vital as long as there are folks who want to play it.
Dedication to the music and the band's sense of camaraderie marks every note the band plays, live or in the studio. Foghorn play in unison, gathered around a single mike, no flashy picking or solos, carried along by their driving rhythms and fierce determination to keep traditional music alive and exciting for this and future generations. The band's genuine enthusiasm for the music keeps them a mainstay in the folk and old time music circuit.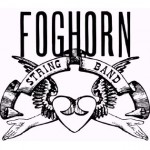 Foghorn has toured extensively throughout the US, the UK, Ireland, Denmark, Sweden, Finland and Malaysia, playing a variety of stages including the Tonder Music Festival, the Newport Folk Festival, the Rainforest World Music Festival, the Chicago Folk and Roots Festival, Pick-a-thon Roots Music Festival, The Seattle Folk Life Festival, The Bristol Rhythm and Roots Festival, Bumbershoot and the ROMP Festival.